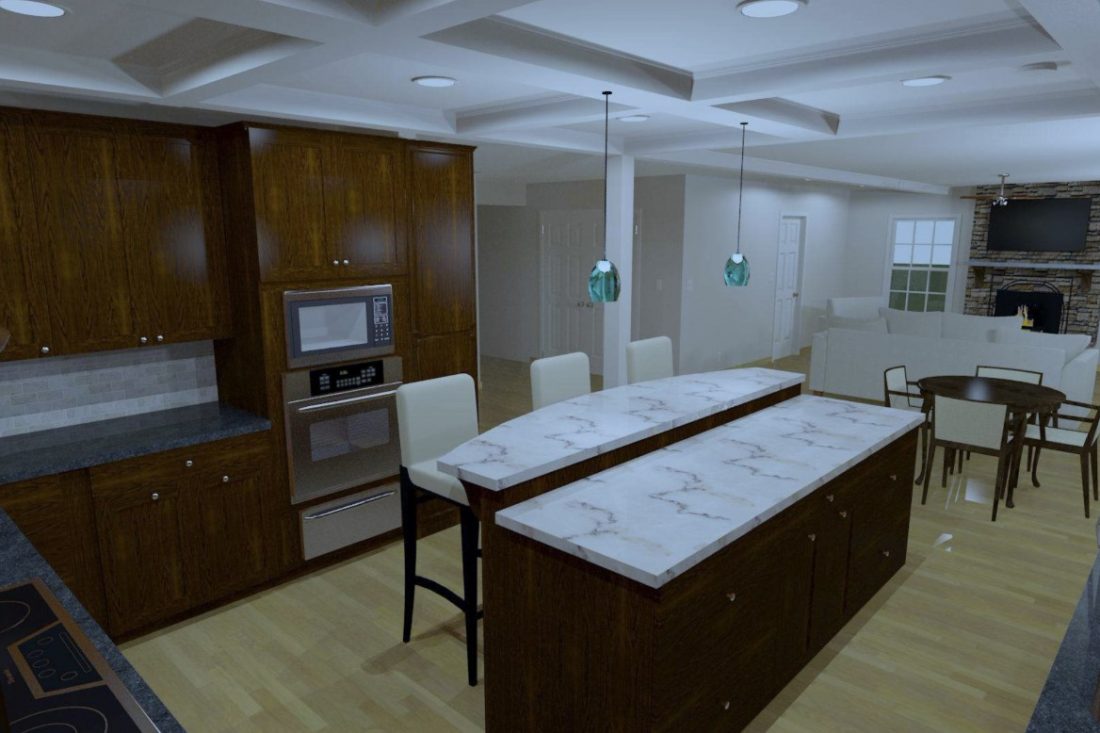 Our Process – 8 Steps:
If you're considering adding to or remodeling your home, you probably have a lot of questions about where to start and what to expect. This is your home, your family, and a financial investment. We understand that the process can be a little intimidating at first. In order to help everyone understand what to expect, we have broken the entire process down into 8 different steps. We hope these easy to follow steps provide a clear understanding of the separate stages of a professional Design/Build project.
Step 1
Your Initial In-Home Consultation
Richard Lensis and/or Stacy Lensis, the Owners of Lensis Builders, will meet you at your home to discuss your home improvement goals. This is a great time to have specific questions answered, learn more about our company, and discuss in detail what you're trying to accomplish with your project. Morning, afternoon and evening appointments are available for your convenience. We feel like this in person meeting will help you determine if the Lensis team is the right personality fit for you and your family. We will take measurements, take pictures of the existing conditions, and talk with you about how you see your end result. Maybe you don't have any real ideas of how to accomplish your goals? That's OK too. That's our expertise – creative thinking to solve residential construction and architectural issues. We want to hear about your "Gotta Have Its" AND your "Wish List". We will walk away from this meeting with enough information to provide you with a work scope summary as well as a potential cost range estimate.
Step 2
Project Work Scope Summary & Opinion Of Probable Cost
After our meeting, we will review our notes, measurements, and existing conditions photos. The first thing you'll get from us will be our interpretation of your project(s) work scope. This Project Work Scope Summary will also include an Opinion Of Probable Cost – an anticipated cost range based on the information we have, and similar projects we've completed in the past. This won't be a construction proposal or an estimate. It's simply an anticipated cost range that will give you an idea of what to expect. If this cost range works with your budget, we can move into the design and material selection phase.
Step 3
Architectural Design & Material Selections
We will send you a Design Agreement detailing all aspects of your project for your sign off, and request a small retainer fee to start this process. This design fee will be credited toward the cost of our construction. We use the CAD program Chief Architect for all architectural drawings – from two story additions to Kitchen remodels. Our Design Team will create various options for you to review. Your ideas will be incorporated with functional and aesthetic principles to create a design you will love. We will also create a 3-D computer rendering of your remodel so you can view it as if you were standing in the room. Our design work will strive to be consistent with your budget. You will also be invited to our Showroom and Selection Center to start selections of materials such as cabinet types, countertops, wood flooring, faucets, porcelain tile, etc. You can view these products in person to find exactly what you are looking for.
Step 4
Design Finalization, Construction Proposal and Project Timeline
After your design is finalized and materials selected, we are ready to do a 100% accurate, detailed construction proposal. This proposal directly references everything about the drawings that you have approved, as well as each and every material you have selected. This upfront approach eliminates the need for cost over-runs/change orders. We feel like it's important to iron out any details on the front end – there should be no shades of grade with a construction proposal. We want you to understand every detail. After the proposal is signed, we will come up with a job start date and construction time-line. You will receive an email invitation to join our cloud-based software, BuilderTrend, which allows our clients to view a Gant chart with their construction schedule updated daily by the Lead Carpenter on the job.
Step 5
The Permit Process
Lensis Builders handles all permits and inspections for all projects requiring permits. Recently, most local VA counties have changed this to an electronic/on-line process – requiring us all to add a little bit of extra time to the start to finish permit endeavor. Once we have all required permit approval, we are ready to get started!
Step 6
Pre-Construction Meeting
Permits in hand, we will contact you to schedule a Pre-Construction Meeting in your home. You will meet with Richard Lensis and the Lead Carpenter who will be working on your project. We will review specific dates, expectations and an overview of your projects conditions which include logistics such as children, pets, working hours and areas of your home affected by the project. All of your home's boundaries will be established before any work begins.
Step 7
Construction Begins
The first day of construction is always exciting, and you can be sure our team will do everything possible to make our presence in your home comfortable. The Lead Carpenter for your project will want to meet with you at least once weekly briefly to go over progress and answer any questions that you might have. You'll also find Richard and Stacy Lensis easily available via phone, text or email at any time. The job-site is cleaned up and swept broom clean daily, there will be no trash left in your home from our workers. Your project will be tracked on BuilderTrend, and you'll be able to check in online any time you want – to see progress photos, find out what's happening over the next few days, etc.
Step 8
Final Walk Through
Your project passed the final inspection! Before we pack our things and leave you to enjoy your new beautiful home, we will do a final walk-through with you. This final walk-through will enable you to point out any "punch-list" items you'd like us to take a look at before we go. These punch-list items are typically small things like a ding in the drywall. It's important to us that you're 100% happy with your project, and a final walk through is the best way to ensure it's all exactly as you want it.